Edgelands: neither here nor there
I'm no lover of cities, yet I'm drawn to edgelands – those transitional spaces that are neither urban nor rural.
Seek them out the edgelands and you'll find, laid bare, the threads connecting our built and natural worlds.
Imagine you're cycling along a path beside a windswept bypass, the frayed hem of the city. Maybe you cross at the lights, to avoid the underpass and its unwelcome carpet of broken glass. You follow the signs into a new housing estate and on to a narrow dead-end road. There are fields, the sort that host shipping-container storage or a solitary horse, and a few dog-walkers' cars parked by the side of the lane. Then you realise where you are: the edgelands.
Abruptly, the road bends and dips to take you under a motorway bridge. It's raining now, so you stop to rest a while and see if it eases off, leaning your bike against the graffitied concrete wall while cars rumble overhead. Looking back, you see the uniform roofs of the estate, and beyond them the tip of a tall office building towards the city centre, the spire of a church. Ahead of you, a bridlepath snakes through farmland – a mixture of pasture and crops – before rising up a grassy hill.
I know this bridge. I'm sure that to many people it seems bleak, ugly. But to me it feels almost magical, like a portal between worlds, transporting me from the end of city cycle paths to the start of the rural trails beyond. It's a symbol of possibility for the ride ahead, the promise of a good day in the saddle. Indeed, architect Ignasi De Solà-Morales Rubio described edgelands, or terrain vague as he called them, as places of 'void, absence, yet also promise, the space of the possible, of expectation'.
These places, defined by what they are not, are not yet or are no longer, have attracted many writers over the years. Marion Shoard, Richard Mabey, Iain Sinclair, Will Self and others have explored edgelands, usually on foot. I followed in their footsteps one January day when I undertook that most edgeland of activities: getting the car serviced. Car dealerships seem to float on the tide of urban sprawl, washing outwards every generation to where large amounts of space are cheap yet accessible (by car at least). So this was the perfect opportunity to explore some terrain vague.
I headed out of the dealership past a bowling alley, then followed a footpath that took me right through the middle of a factory. I threaded my way, under the suspicious gaze of a worker, between buildings on a path lined white for health and safety – and over the railway. On the far side, I came to a slither of forgotten land alongside a stream, then to a 1980s urban extension. Grey brick houses, cars in driveways, wheelie bins gathered for collection day. This pattern of housing estates interspersed with awkward pockets of green – the scraps leftover from development – continued until I reached a swathe of farmland.
But here, where once people had worked to plant and tend their crops and to bring in the harvest, all was quiet. The farm buildings were empty, the handsome brick farmhouse derelict and the fields unplanted. This was land caught in a state of flux, with plans approved for its transformation: builders would soon plant hundreds of houses between the hedgerows.
As I walked, two buzzards circled high above me in the blue winter sky. From that height, you can see the truth of this land: that few in their right mind would continue in the uncertain, unrewarding business of farming when they could sell to a developer and be done with it. It's easy to lament a situation that turns green fields into grey concrete and black tarmac, but change in the edgelands works both ways – as the next section of my walk would show.
At the end of a farm track I reached a former village, now swallowed by the city. It was the site of another factory, but this one made cakes. Seeing the factory made me smile as my mind leapt to the long association between mass-produced custard pies and slapstick comedy. Or maybe I recalled the story my mate told me about working in this particular factory when he was a student and carefully smuggling out chocolate eclairs tucked in his wellies.
Beyond the factory, I had a choice: I could follow the footpath or take a more direct route through the old quarry and rejoin the right of way further down. A trespasser by nature, I chose the quarry route. The sprinkling of threatening signs made it clear I was not welcome, but of the people who put them up – or those, like me, who disobeyed them – there was no trace. So I pressed on, past a fenced area where someone stored a dumper truck and, incongruously, an old electric milk float.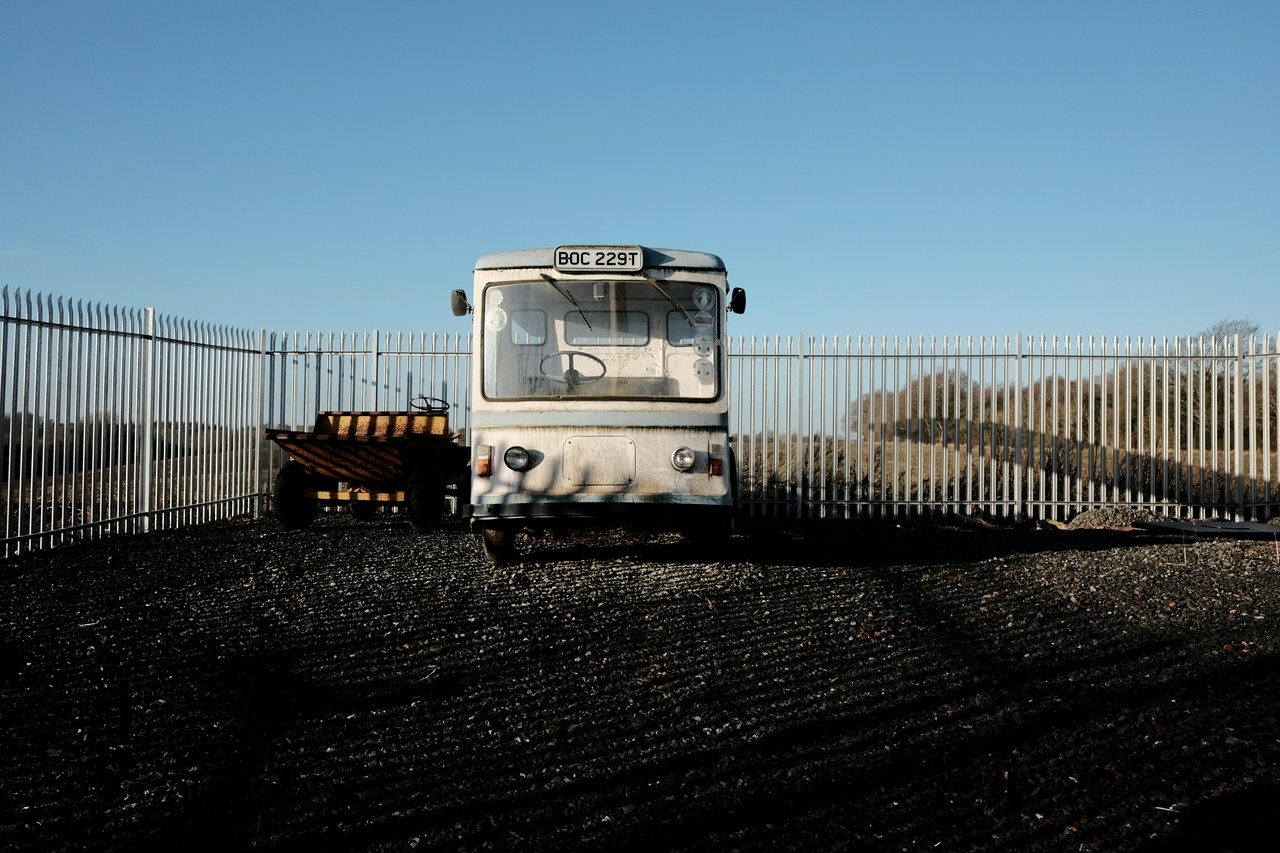 That's edgelands for you – these overlooked and unloved places are full of surprises. Another one awaited me around the corner. The old quarry on the map, once presumably a place of noise and dust, was now a series of tree-lined and tranquil fishing lakes. There was a car in the parking area by the middle lake and a figure sat, rod in hand, on the far side. I left them to their sport and their solitude, ducking through the trees by the lower lake to rejoin the footpath.
Shortly afterwards I decided to stop and eat my packed lunch. Mid-sandwich, my phone rang – it was the service manager from the garage, the car was ready. My time of wandering and pondering, of being neither here nor there, was at an end.